Paragliding Oludeniz Fethiye of Turkey
Paragliding is a sport that combines the thrill of flying with the beauty of nature. It's also a great way to see the world from above.
Babadag is a mountain located in Fethiye, which is a borough of Mugla and truly unique worldwide paragliding center.
Height: 1965 meters – 1800 meters – 1700 meters
Distance

to Fethiye:

20 km

Location

:

Babadag Mountain

is inside the borders of Fethiye which is a borough of Mugla and 7 km inland from the sea. It arises just behind the Oludeniz beach and directly faces to south. You can reach the take off from Oludeniz within 20 minutes. The road to the peak is stable and smooth.
1. We take you from your hotel
Pilots fly 5 times a day starting at 8:00 every 2 hours. Our transport can take you from your place 30 minutes before the paragliding activity and the meeting is in our office in Oludeniz.
2. Transfer to the top of Babadag
From our office in Oludeniz we start to go up to Babadag Mountain. The road is quite nice and the view is beatyfull. Some times you can see a turtle, pigs and lot of goats on the road. It takes 20 min. of time. On the road you can ask anything to your pilots.
3. Takeoff, Flight and Landing
Back to Otel or enjoy Oludeniz Blue Lagoon
Right after landing you can see your photos and videos. It does not mean you have to buy them.
Paragliding Oludeniz Fethiye and Leaning to fly indeed
The most simple, or in another words most practical way of flying is paragliding. Ones who had flown before exactly know that, it is an experience you cannot explain, but only live. People who are determined get their reward this courage by experiencing such an action.
We have something to say for the hesitant to this, or find it dangerous:
When the automobiles involved in our lives in the first time same discussions occurred too, and now there is almost no difference between walking and driving. The difference between driving and flying via paragliding is nothing. Who knows, maybe in a near future JETSONS will be real :).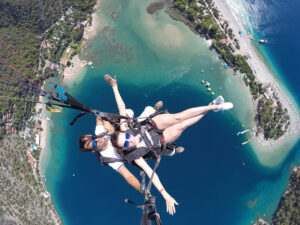 Our instructors will take care of everything so you can just relax and enjoy the view.
We provide a safe environment where you can learn how to fly safely and comfortably. Our instructors will teach you the basics of paragliding and then let you practice as much as you'd like.
Buy your paragliding ticket here.
The Best Time to Go Paragliding in Oludeniz
What makes paragliding in Oludeniz so good is that it can be enjoyed year over year. We recommend flying between April and October for a more comfortable flight during hot summer weather. The summer months from June to August for Turkey travel means that the flights should be larger. Generally the flight will be colder, especially at flight time and you will need the proper clothing. Make your appointment early. Afterwards after completion of the briefng everyone jumped onto the truck for the climb of the Babadag Mountain (The Father Mountain), which is 1960 meters high. On the mountaintop is the most beatyful takeoff in the world.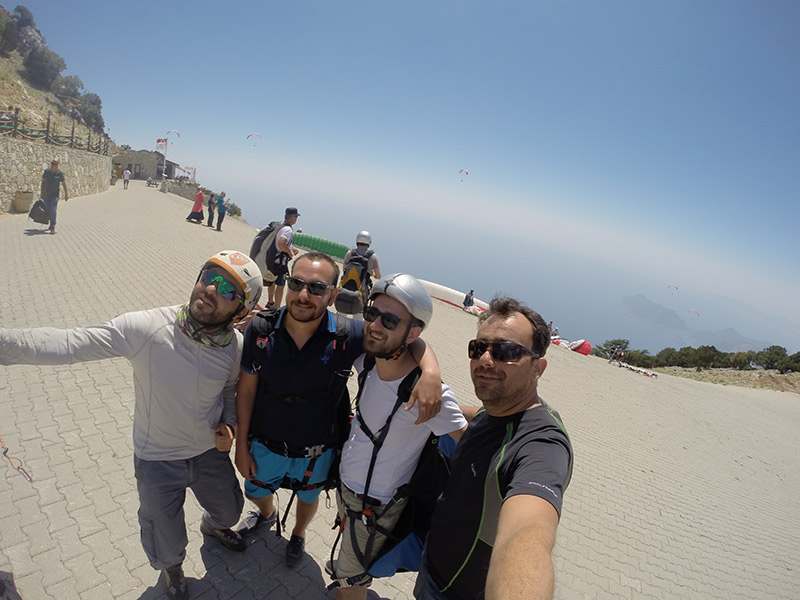 Insurance information
A more important topic arises in the case of insurance for Fethiye paragliding tours. Your paragliding firm has insurance coverage, which covers you during the paragliding activity in Fethiye Oludeniz Turkey. It's included in Fethiye Paragliding prices. There are no insurances to cover the relocation. Check if your usual travel insurance covers paragliding since paragliding is essentially a dangerous activity. There are a lot of insurance companies offering single day coverage to cover you for the day you jump. Our company has this insurance for travelers.
Are photos and videos included in the price?
No pictures or videos are usually included on flights. Photo and video capture is something that must be done safely while in the air. Your pilot will take these shots and you can buy them after landing if you want.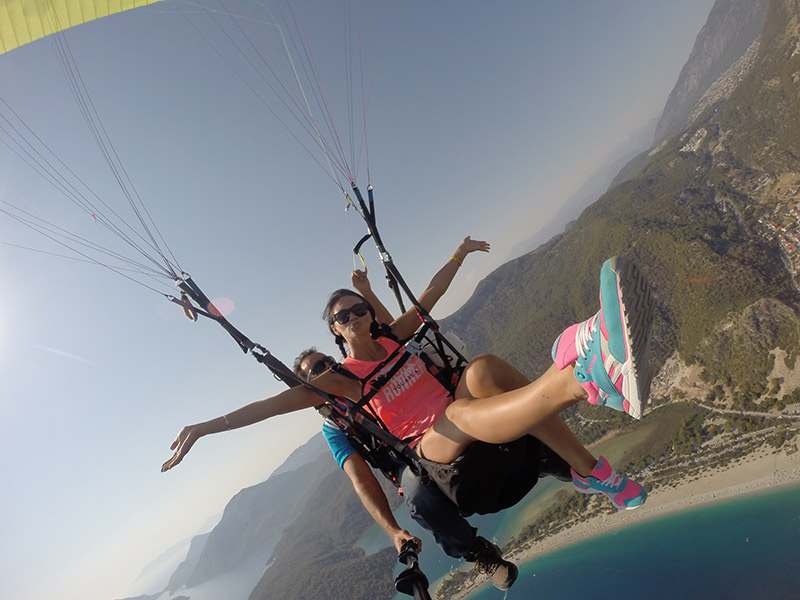 Why paraglide in Oludeniz, Turkey?
Starting in Babadag Mountain, about 2000 metres in height, makes for an ideal flight. View of Oludeniz Bay along with beautiful beaches along the turquoise waters of the Mediterranean offer the stunning panoramas expected from the Turkish coastline. Aside from this, Oludeniz Paragliding ranks among the best paragliding destinations on the globe. Several local companies have a strong presence in the region. In the end you will have a view of the Mediterranean and blue lagoons. A great day on the turquoise coastline.
Which is the best paragliding company in Oludeniz?
Most companies in Oludeniz are good choice. Given the number of airlines that fly from mountains every day, accidents are extremely rare. But be careful of super cheap outfits since many launches are at lower locations so they don't incur entrance fees or taxes.
Paragliding with kids
If your youngster wants to go tandem paragliding at Oludeniz we can offer you some information. Children aged 4 and over can fly with us.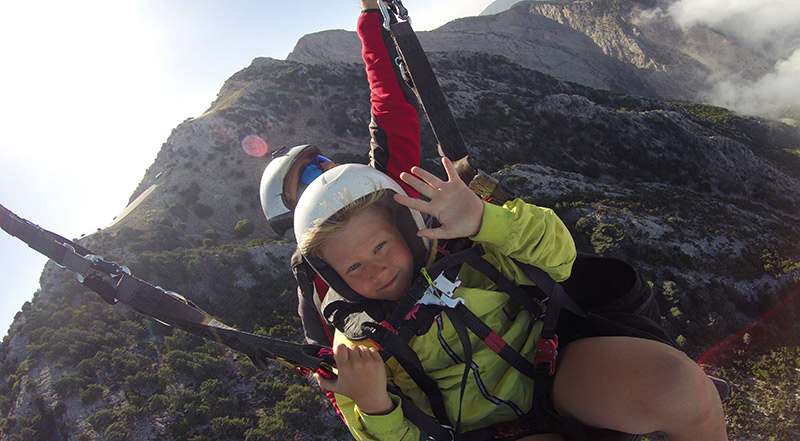 Why should you NEVER go for the cheapest deal?
This is an activity with fixed costs. The price of these products consists of admission to the mountain, experienced pilots with years of experience, and excellent technical skills. If you choose to fly with a rookie pilot instead of official ones at the Babadag Mountain, you are probably at high risk.
Is transfer included?
Our transfer from all hotels in and around Ölüdeniz is included in the price.
What is Landing like?
Landing is a very simple task. Your pilot will make a small talk just before making the final approach. Basically it will only ask you to stand up at the last second of landing. You will start making small turns and start moving towards the set goal. Pilots brake fully when approaching the ground to ensure a smooth landing. Simply stand up and walk when instructed by the instructor.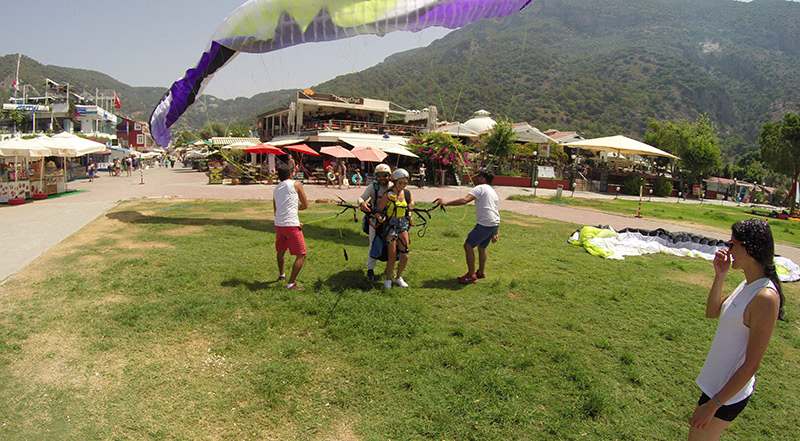 What to wear for paragliding?
Wear sport shoes for paragliding flights. Short sleeved clothing is good throughout summer but sleeve length clothing is more suitable during the winter. Long pants are usually recommended for those who have to land slightly harder, so the knee/foot will not get scratched. It will certainly not happen to you, just for your own safety. Sunglasses will be extremely helpful too!
Other FAQ for Paragliding in Oludeniz
Which part of Turkey is Oludeniz in?
Oludeniz (literally the Dead Sea, which remains calm even during storms; the official translation is the Blue Lagoon) is a small community and seaside resort in Fethiye District, Mugla Province, on the Turquoise Coast of southwestern Turkey, in A The waters at the junction of the Mediterranean Sea. It is located 14 kilometers south of Fethiye, near Babadag Mountain. Closest airport is Dalaman airport.
What is the difference between parasailing and paragliding?
Parasailing is a watersport and you dont have controls. Paragliding is a aviation activity and you can control your direction.
At what height is paragliding done?
You can rise up more then 2000 meters altitude.
How tall is Babadag?
Babadag mountain in Oludeniz is 1960 meters high asl.
How do I book Oludeniz paragliding?
You can book via calling us or buy a paragliding ticket from our website.
Is there a weight limit to paragliding in Turkey?
Yes. Maximum 100 kg.