As in many sports, there is a weight and age limit in Ölüdeniz paragliding activity. These limits can only be bent at the discretion of the pilot and without compromising safety.
Oludeniz Paragliding weight limit
| | |
| --- | --- |
| Minimum weight limit | 35 kg. |
| Maximum weight limit | 100 kg. |
Although the maximum weight limit is certain, it may vary depending on the person's fitness. This topic is basically about being able to run at takeoff.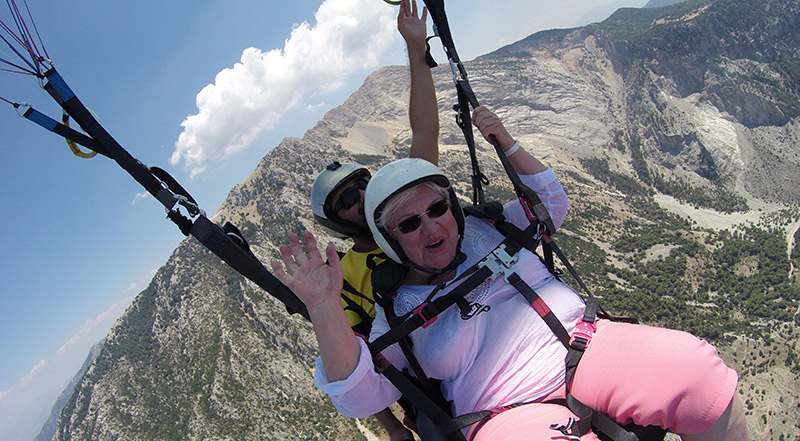 Let's try to explain the weight limit subject with a classic tandem paragliding flight scenario:
Paragliding tandem wings used in Ölüdeniz generally have a surface area of ​​42 square meters. The total carrying capacity of these parachutes is a maximum of 220 kg and a minimum of 140 kg.
Let's say we're going to take a flight soon, and the weight distributions are as follows:
Pilots weight 80 kg
Passenger weight 100 kg
Full gear weight 20 kg
As you can see, there is still 20 kg to fill the parachute's carrying capacity. Theoretically, even a 120 kg passenger can actually make a safe flight, right?
Why is the maximum passenger weight limited to 100 kg?
Experiences throughout the history of paragliding in Oludeniz Babadag have revealed these results. It is only by going into the details that we can grasp why it is true.
Imagine that there is no or very little wind in the take-off area. Paragliding needs a certain speed to start carrying us. Overweight passengers generally cannot do this type of run (We're not talking about people who are fit but heavy because of their muscle ratio). 90% of paragliding accidents occur on take off.
On the other hand, until the wing accelerates, the pilot should be able to gain full control in terms of controls. Even if the passenger is running, normally the pilot should be able to handle a problem that went wrong. A heavy passenger who runs very well starts to dominate the moment of take-off because of his weight, and the pilot's influence is reduced.
The worst decision is much better than being indecisive.
The word "decision" we mean is the decision whether to sell the ticket to the passenger 🙂
Being indecisive: Maybe sell tickets to a customer in case it runs well.
Bad decision: Not accepting individuals over 100 kilograms to the flight. The company and the pilot lose money, the customer gets upset, but everyone goes on with their lives safely.
But that's not the end of the story, don't get discouraged! It is quite possible to guarantee a healthy flight by eliminating a company or a dealer and directly meeting with a pilot with more than 10 years of experience. This one person who will make the flight will tell you if he can fly.
If he or she answered in the negative, a holiday can be very nice without paragliding.
Oludeniz Paragliding Age limits
| | |
| --- | --- |
| Minimum age | 4 year |
| Maximum age | 85 year |
Children under the age of 4 can also technically fly tandem. The problem here is that it will need extra attention for half an hour.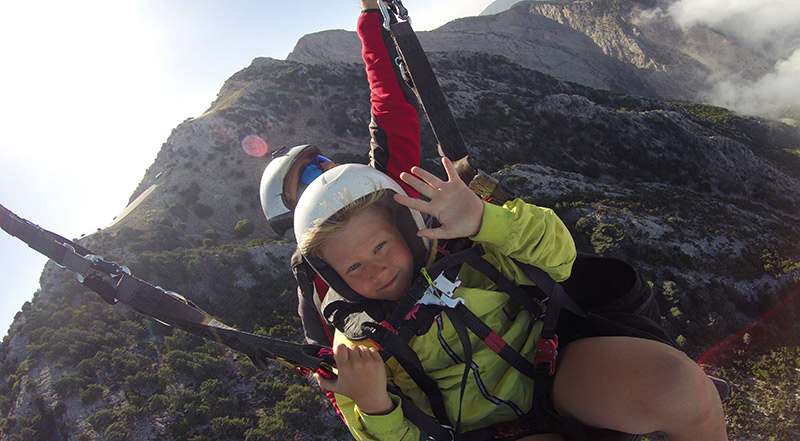 Can children do paragliding in Oludeniz Fethiye?
Absolutely yes, children can do paragliding in Ölüdeniz.
One of the things that makes Fethiye Babadağı a good paragliding location is that it offers soft wind and weather conditions. This is why children and the elderly can fly with pleasure without any discomfort.
In the 90s, a mother or father could fly with a child in their arms with the help of an extra harness. This particular flight is called tridem paragliding. This type of flight is no longer allowed.
Your child over the age of 4 cannot keep up with the run for a safe take-off, so we use an extra staff member to assist us at take-off. As a result, you should contact us for the flight of your younger children.