Paragliding Fethiye Oludeniz Prices (Costs)
Paragliding Fethiye Oludeniz Prices are suitable compare to simular areas. Let's say you want to do tandem paragliding in Oludeniz Fethiye for the weekend and you wonder the price. Without any experience, even somebody who has not thought of something like that has to do something. They can live this experience with the help of a professional pilot. Of course we suggest you to do such a thing with a company which is a member of TURSAB (Turkey Travelling Agencies Union) and has the permissions from the officials. This opportunity we talked about is located in Fethiye–Oludeniz and Kas (in Antalya). For sure there are other very experienced and qualified pilots/instructors, but what we want to mention is about taking assistance from an institutional service.
How much is Paragliding in Oludeniz Fethiye?
Our current price for Oludeniz Fethiye Paragliding in 2021 is 600 TL. Flights continue in the winter season.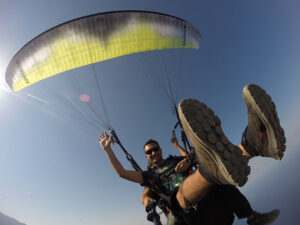 The prices in Kas and Oludeniz are usually the same, but because there is a great competition between the companies in Oludeniz, some seasonal price differences occur. For the last couple of years the prices have fluctuated between 120 TL and 300 TL. With the average of 160 TL per flight, every summer nearly 40000 people live this experience.
Fethiye Paragliding in 2014
In 2014 summer season, the average price of a flight was 180 TL. Sometimes even 200 TL and even in the lowest season it was 150 TL. The flights continue in Babadag Oludeniz, although the amount of flights is small during the winter season. The peak flights are 350 TL. And 1000 m flights are 300 TL.
If you want to fly by yourself and want to start with training, the prices of paragliding beginner trainings may change between 800 TL and 3000 TL. You do not have to buy your equipment for the training.
If you want to buy your own gear, new gear costs 8000 TL minimum.
The gear of tandem pilots in Oludeniz, which have the equipment for two people, is more than 10000 TL.
Have nice flights!
Paragliding Price – 2016
Paragliding price in Babadag, Oludeniz Fethiye: The price of the paragliding tandem flights has been  between 200 and 300 TL during 2016. However, the prices might fluctuate during the season. The poor trending in tourism sector that year was surely affect the prices.

Summary
Article Name
Paragliding Fethiye Oludeniz Prices
Description
Paragliding Fethiye Oludeniz Prices are suitable compare to simular areas.
Author
Publisher Name
Publisher Logo