Paragliding Fethiye Oludeniz Prices (Costs)
Paragliding Fethiye Oludeniz Prices are suitable for similar prices. Let's say you want to do tandem paragliding in Fethiye Ölüdeniz at the weekend and you are wondering about the price. We have listed the flight type differences or the prices of photography and video shooting for you. You can find the answers in the tables below. We recommend paragliding in Ölüdeniz even to someone who has not thought of such a thing, without any experience. They can have this experience with the help of a professional pilot. Of course, we recommend that you do such a transaction with a company that is a member of TURSAB (Association of Turkish Travel Agencies) and has obtained permission from its authorities. Of course, there are also very experienced and qualified pilots/trainers, but what we want to talk about is getting help from a corporate service.
Check for updated paragliding Oludeniz Fethiye prices.
How much is Paragliding in Oludeniz Fethiye?
Price for Oludeniz Fethiye Paragliding in 2023 is 1600TL minimum. Flights continue in the winter season.
Fethiye Oludeniz paragliding price 2020: 90 $.
Fethiye Oludeniz paragliding price 2021: 100 $.
Fethiye Oludeniz paragliding price 2022: 145 $.
Fethiye Oludeniz paragliding price 2023: 110 $.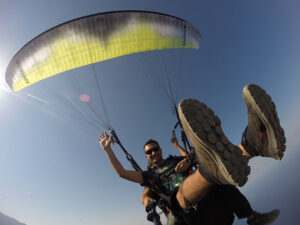 The prices in Kas and Oludeniz are usually the same, but because there is a great competition between the companies in Oludeniz, some seasonal price differences occur. For the last couple of years the prices have fluctuated between 250 TL and 2200 TL. With the average of 160 TL per flight, every summer nearly 140000 people live this experience.
Price of Paragliding Types in Oludeniz
| | |
| --- | --- |
| Paragliding Type | Price |
| Classic Tandem Paragliding | 110 USD |
| Thermal Flight | 155 USD |
| Acrobatic Flights | 165 USD |
Explore the types of paragliding page.
Photo and Video prices of Paragliding
20 USD in 2021
25 USD in 2022
25 USD in 2022
25 USD in 2023
Paragliding is an exhilarating sport that combines the freedom of flight with breathtaking views of the surrounding countryside. It's also a great way to experience the beauty of Turkey.
If you're looking for a unique adventure, paragliding is one of the best ways to see the country. You can fly high above the stunning scenery of Turkey, enjoying the view while gliding along at speeds up to 60 km per hour.
Fly with an experienced instructor.
If you're new to paragliding, you should choose an experienced instructor who will help you learn how to fly safely. You can find instructors at local airports, online, or by contacting your airline.
Prepare yourself before taking off.
Before you go paragliding, make sure you prepare yourself physically and mentally. Make sure you've got enough food and water with you, and pack some comfortable clothes. Also, make sure you're well rested so you won't feel tired during the flight.
Fethiye Paragliding prices in 2014
In 2014 summer season, the average price of a flight was 180 TL. Sometimes even 200 TL and even in the lowest season it was 150 TL. The flights continue in Babadag Oludeniz, although the amount of flights is small during the winter season. The peak flights are 350 TL. And 1000 m flights are 300 TL.
If you want to fly by yourself and want to start with training, the prices of paragliding beginner trainings may change between 800 USD and 1200 USD. You do not have to buy your equipment for the training.
If you want to buy your own gear, new gear costs 1500 USD minimum.
The gear of tandem pilots in Oludeniz, which have the equipment for two people, is more than 3500 USD.
Have nice flights!
Paragliding Price – 2016
Paragliding price in Babadag, Oludeniz Fethiye: The price of the paragliding tandem flights has been between 200 and 300 TL during 2016. However, the prices might fluctuate during the season. The poor trending in tourism sector that year was surely affect the prices.