The top of Babadag mountain in Oludeniz is 1960 meters high. It's the perfect place to experience a panoramic view of the stunning landscape below. Other take-off areas at the summit are at 1800 meters and 1700 meters. Since safety comes first in paragliding, we fly from whichever take-off runway is suitable for wind direction and strength.
Since it snows on the summit in winter, we have to use the take-off runway at 1200 meters.
Take-off runways and altitudes for paragliding in Fethiye Oludeniz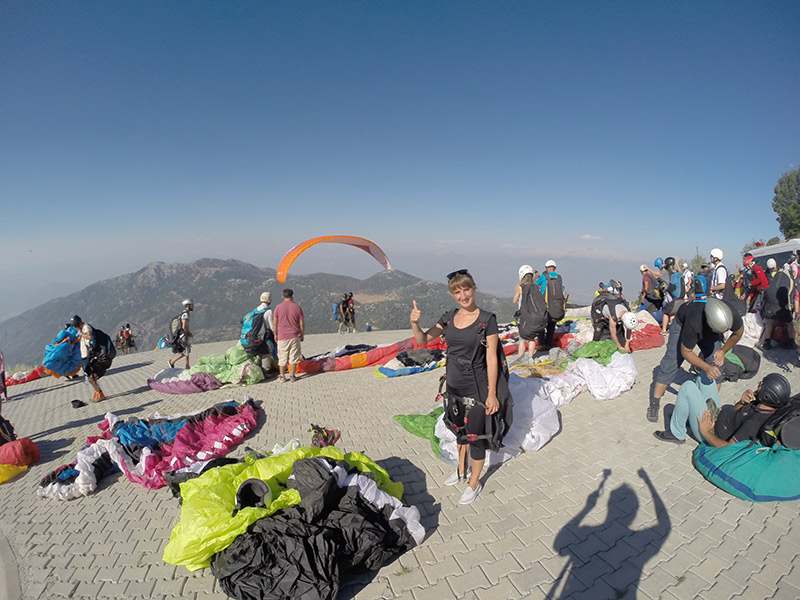 Patara and North takeoff at 1960 meters high
At 1900 meters level, there are 2 places called "Patara" and "1900 north". This track, which faces the direction of Patara beach and takes its name from there, meets the wind from the southeast. The 1900 north runway, on the other hand, is suitable for take off in the north and northeast directions.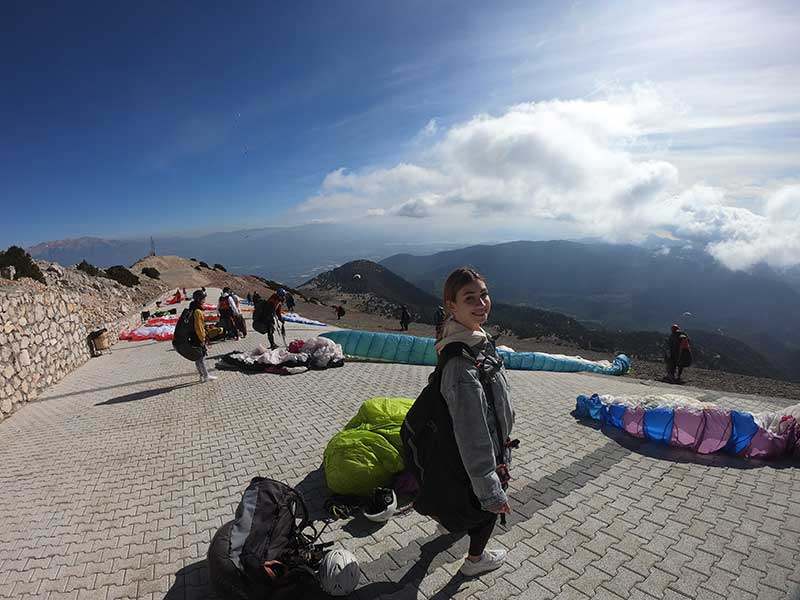 Regardless of where the healthy and safe take off is, the landing will be made at Belcekiz beach in Ölüdeniz.
1800 meters high North Runway
Sometimes the north winds, which blow very hard at the summit, blow softly at 1800 meters. This offers us a gift-like alternative for safe departures.
In addition, it is now possible to reach here by cable car.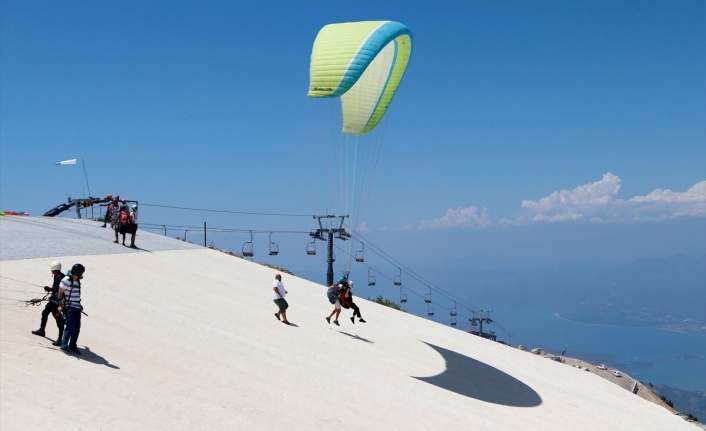 1700 meters high South Takeoff
Our most popular take-off runway at 1700 meters meets winds from the south, southwest and southeast. Since it has a long running area, it gives a psychological confidence to the passengers. But professional pilots know that safe take off is all about the wind.
There is a large restaurant and service place on this level. It is enjoyable to watch the paragliders take off and take off while having a nice breakfast.
1200 meters Takeoff area to West and South
It is an excellent alternative for paragliding in winter conditions.
Perfect for beginner paragliding students.
It provides flight opportunity if there is harsh and turbulent air at high altitude.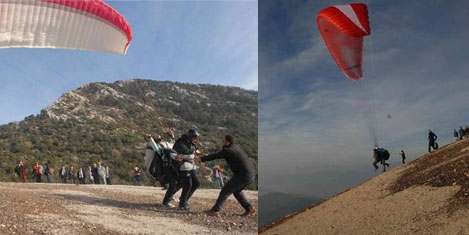 How high up do you go, and what can you expect to see from the sky?
When you book a paragliding experience in Ölüdeniz, you will fly from Babadağ Mountain, one of the highest peaks in the region. The altitude you will reach will depend on the weather conditions on that day, but you can expect to climb at least 1700 meters high enough to see Fethiye and its surroundings from a whole new perspective. The views from above are truly incredible and you'll have plenty of time to take it all in as you soar through the sky. If conditions are right, you may even spot some dolphins swimming in the sea below.
To stay in the air longer and rise, you can consider the thermal flight option. However, if your stomach is weak due to light shaking, it may be nauseous.
Oludeniz paragliding height is one of the many things that make this destination so special
Compared to other mountains suitable for flight in the world, we can say that Babadag is the only mountain where you can fly above the sea with the highest altitude.